Bar/Bat Mitzvah project
Have you chosen your Bar/Bat Mitzvah project yet?
Your Simcha is just around the corner…


Why partner with Jewish Projects
Jewish Projects offers you a wide variety of projects to choose from and a very simple step-by-step process to reach your goal.


Bar/Bat Mitzvah Project Step-by-Step Guide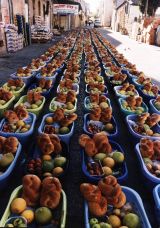 Your Bar/Bat Mitzvah is a milestone which you will be working hard to accomplish. Your family, your Rabbi, your Bar/Bat Mitzvah tutor, teachers, and friends will help along the way, but it is your celebration and yours to cherish for years to come.

This guide concentrates on the Bar/Bat Mitzvah project, on which you will be working during the year leading up to your Bar/Bat Mitzvah day, and, hopefully, it will encourage you to continue with Tzedakah and Tikun Olam projects diligently.

How to choose the right project?
Just ask yourself:
What do I care about?

What am I interested in?

Who do I prefer to help?

Will it be easy to obtain information and material? Yes, absolutely!

What to do first:
Contact Chanan at sodz2@zahav.net.il to obtain the electronic version of this guide for easy navigation, if you do not have it already.

Review the following list of meaningful Tzedakah and Tikun Olam projects.

Click on the project/s you find most appealing to you, to navigate to the appropriate website/s.

Need help? Contact us.

I found the project I like! What do I do now?
Share with your family, Rabbi, tutor, teachers, and friends. Seek their wise advice.

Create partnership with Jewish Projects. We want to hear about all of the great work you are doing! Send us an email with the following information:

Name

Date of your Bar/Bat Mitzvah

Synagogue

Your address, phone number, and email address

What you have chosen to do for your project

Need information and material? Email us.

Now, how do I generate support for my project?
Following are some ideas, but the sky is the limit!
Donate 3% of the cost of your celebration to your project.

Donate to your project in honor of your guests in lieu of purchasing party favors.

Suggest that guests donate to your project in lieu of gifts.

Distribute the Jewish Projects one-page brochure at your celebration.

Contact us for any material you need.

We'd love to share your creative project on our website, so be sure to send us pictures and keep us updated on all of your hard work! Email Chanan at sodz2@zahav.net.il

Project list

http://jewishprojects.org/page_e.php?id=7&name=Jewish&%20Projects

Good luck and enjoy working on your Bar/Bat Mitzvah project!
From the Jewish Projects team - Your bridge to Tikun Olam challenges
+972-54-461-5849
Israel